With your account you can manage your VoIP calling and features from within one simple software application. From managing your inbound and outbound calls, to setting up voicemail to email, call recordings and more. To help you get the most out of our service we've created four Bootcamps:
Personalize and Customize.
Manage your Inbound Calls.
Manage Your Outbound Calls.
Understand Advanced Features.
The first bootcamp will show you how to personalize your Account settings.
Update Personal Account Details
Keeping your account's personal details current will make sure that you keep on top of all aspects of your CloudPBX from accounts to settings.
Log into your Account.
Select Profile.
Select Contact Information.
Fill in or update your details. Within this section you have the option to; fill in contact details, billing details, select billing email options and reset the account password.
Click Save to update settings.
Notifications

Select Profile.
Notifications.
Select which notifications you want to be sent to your email.
Check Account Credit Settings
By now you have entered your credit card details into your account. It is important to understand how and when payments will be deducted from your credit card.
There are two separate processes that trigger credit card payment and we will explain how these work.
Automatic account credit top-up.
Auto Pay/Auto Debit: Payment of your fixed monthly account charges.
Top Up Settings
If you are on a pay-as-you-go calling plan, each call you make and each service you purchase will be deducted from your account balance. So, if your account balance is $10.00, every time you make a call this is deducted. Once you reach your specified threshold, your account can be automatically topped-up with a payment made via your saved credit card.
If you do not have your account set to automatically top up you risk losing the ability to make outbound calls. This includes any calls that you may have forwarded to mobile numbers as these are outbound calls.
On a pre-paid calling bundle, this may not include international calls and/or calls to 13/1300 numbers. So you will need to have credit on your account to make these calls. Setting an auto top-up will ensure your credit is added to your account if you go over the calling allowance in your bundle.
We recommend setting this to ON.
Select Billing.
Select Manage Billing.
Toggle to enable the option "Auto top up my account when my balance drops below the balance threshold."
Define the Balance Threshold, Top up amount and Maximum per week.
Add Numbers
Numbers
You can add numbers to your account at any time. Once added to your account, you can then customize the settings for this number and also add a device such as a handset or softphone.
Select Switchboard from the top menu.
Click "Add Number".
Select your desired Country and State, locality, type (Voice or Fax) and the plan that you want to add the number to.
Porting
You can also bring your own numbers to Vaitel for free!
We'll take care of bringing your numbers across to our network. Simply complete our online porting form to get started.
The porting process usually takes 5-7 business days.
You can find more information regarding number porting processes here.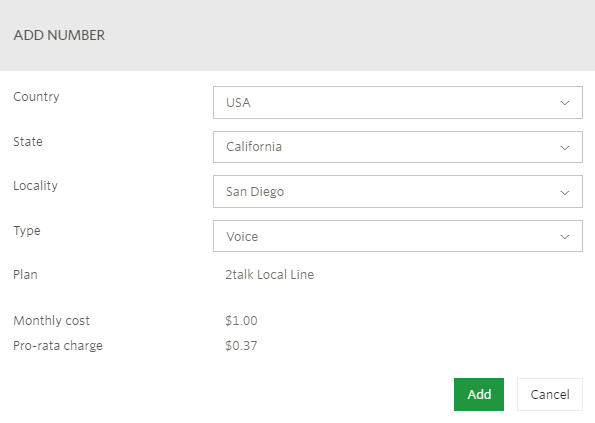 Numbers and channels are charged as per the plan or bundle you have chosen.
Connect Handsets and Soft Phones
Handsets and Soft Phones are commonly referred to as "devices". Within your Account, there are a few fundamental rules regarding devices:
You can only have one device per number.
Any physical device (handset) must be IP telephony capable.
The device connects to a VoIP domain (proxy) which sends and receives your calls. You will find this address here.
Connecting your device is referred to as "provisioning".
Auto device provisioning is supported for Yealink and Polycom. Config files for other IP devices may be available from your service provider.
Connecting a VoIP Handset
This is how you connect your physical device to a number in your CloudPBX account.
Note, this is only for Yealink and Polycom phones.
Once logged into your Account click Tools and select device provisioning.
Select Add Device.
Select the number to be connected to the device.
Add the MAC address.
Add the device name.
Select the time zone.
Save the information.
Connect or restart your handset and the settings will be uploaded and you can now make and receive calls.
Connecting to a SoftPhone
You can make and receive calls through a softphone installed on your mobile device, desktop PC or Mac. This is so handy for anyone who travels, so they can make calls from their mobile using a local phone number. And also for teams who make lots of calls and they can have a device set up on their computer.
You will need to install the appropriate app onto your device.
If you are using a softphone app given to you by your service provider, it is likely the domain proxy details will already be configured. If not, you will need to enter this.
Enter the Username which is your phone number, along with your password.
You will see the phone saying "registered" and you will then be able to make and receive calls.
Device Provisioning in your Account is not used to set up SoftPhones.
Personalize Numbers
Now that you have numbers set up on your account, there is so much more than you can do to customize these numbers. This includes:
Setting the Caller ID so that when outbound calls display your name or number.
Add your voicemail messages.
Set up your voicemail so your messages are automatically sent to an email address.
Set up Call Recording so a .wav file for each in/outbound call is saved.
To enable functionality for each number, follow these steps:
Select Switchboard and you will see your phone numbers listed.
Click onto the number you want to update the settings for.
Click into the menu items, such as Inbound Calls, and you update the settings for your number.
There is so much more functionality that you use to personalize your numbers. We recommend you take a look at taking the time to see all the articles located in the Help Center and pick out those which you would like to use.

Restrict Numbers
Okay, this might be a little tricky to get your head around, so take a moment to think this through. Here are some basic steps.
You have set a user name and password for your account.
You are the administrator of your account and you use the above credentials to access your account.
When you assign a phone number to a person, you can give them access to your Account via their own user name and password, so they can now set up and manage the features. This is referred to as a Restricted Number.
Restricted numbers should be assigned unique passwords with minimum of eight characters.
Don't use wildcard characters like #$*!& in the password.
Don't use the account password on Restricted Numbers.